Nueva carretilla elevadora de 3 toneladas de CARRETILLA HIDRÁULICA DIESEL, que es estándar con mástil de 2 etapas de 3 metros, motor diesel XINCHAI 498BPG 37kW, transmisión hidráulica. (El motor diésel JAPAN ISUZU C240 ​​de 34.5kW es opcional, el mástil puede alcanzar los 6 metros.) La válvula de dirección es EATON de EE. UU., La bomba de aceite es SHIMADZU.
Shantui ha cooperado con KOMATSU durante más de 30 años, todo el producto fue fabricado bajo el estándar KOMATSU.
Perfiles de la empresa
Shandong Volin Heavy Machinery Co., ltd. es una subsidiaria del Grupo Shantui. Es fabricante profesional y proveedor de carretillas elevadoras Shantui. Nuestros productos principales incluyen carretilla elevadora diesel, carretilla elevadora eléctrica y carretilla elevadora de LPG a gasolina, maquinaria de construcción como bulldozer, cargadora de ruedas, excavadora, motoniveladora y compactador de carreteras y partes de maquinaria de construcción.
¿Por qué elegirnos?
1. Mejor calidad: Shantui tiene una larga historia y una de las mayores fábricas de montacargas de China.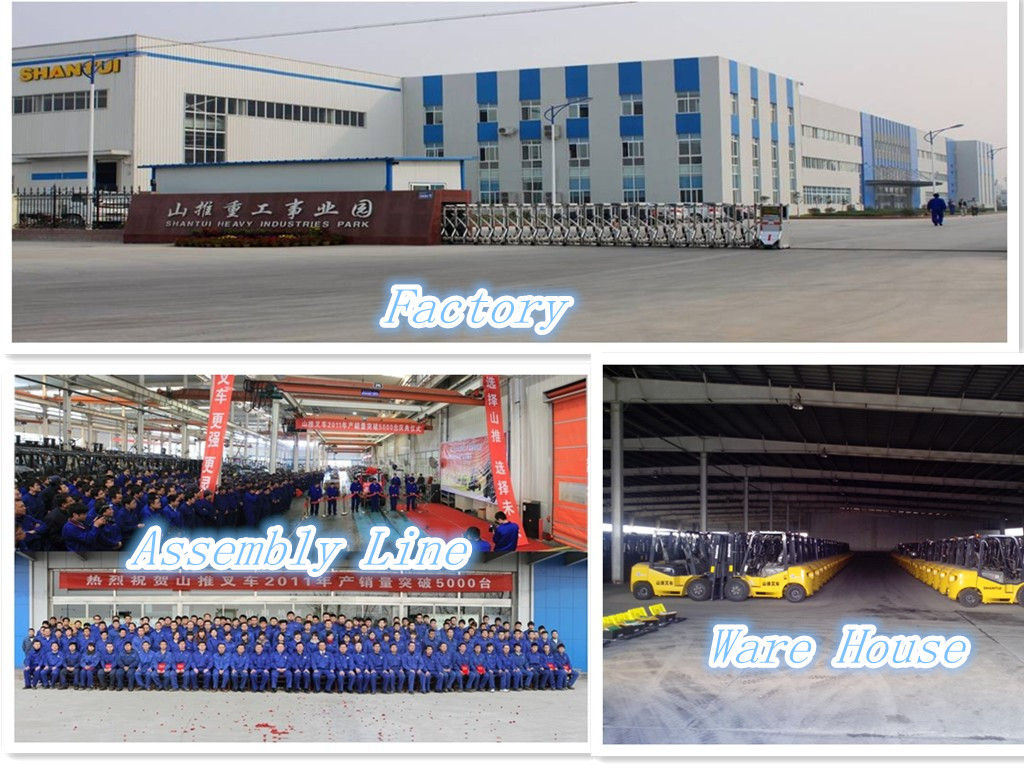 2. Tecnología avanzada: Copperate con Japan Komatsu por más de 20 años.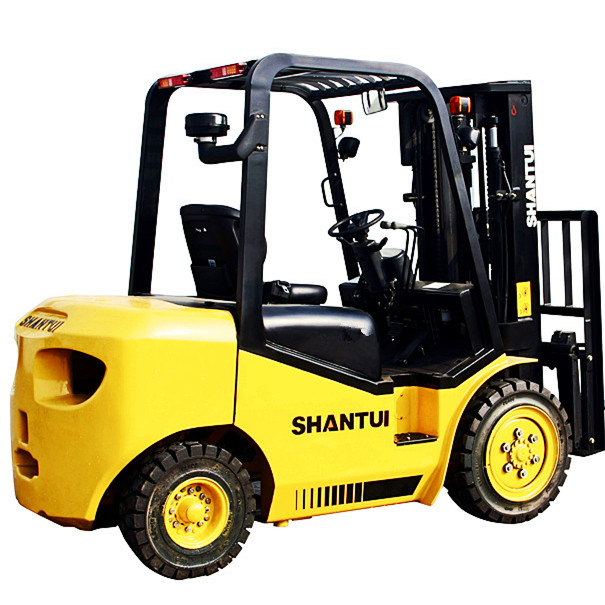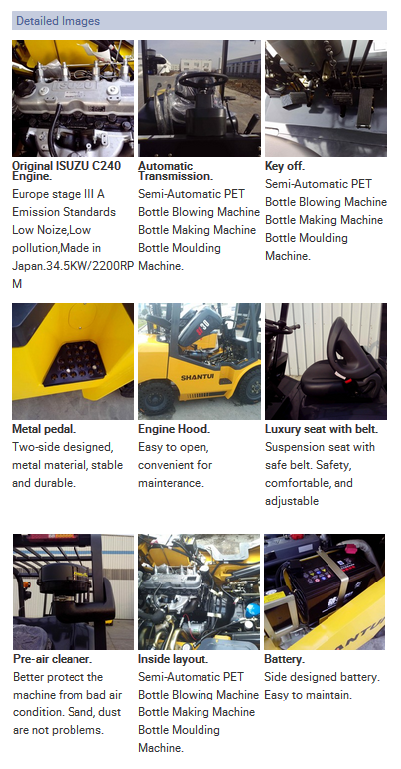 SHANTUI FORKLIFT SPECIFICATION
General
Model
SF30
unit
Load capacity
3000
Kg
load center
500
mm
Power type
Diesel
Dimensions
Lift size
3000
mm
Fork size
1070x122x45
mm
Mast tilt angle
/6/12
°
Front overhang
495
mm
Overall dimensions
Length to face of fork
3779
mm
Overall width
1226
mm
Overall height fork lowered
2070
mm
Overhead guard height
2070
mm
Turning radius
2400
mm
Performance
Travel speed(full load/no load)
20
Km/h
Lift speed with load
420
mm/sec
Max.gradeability
20
%
Self weight
4350
Kg
Wheel&tires
Tires
Front
28×9-15-14PR
Rear
6.50-10-10PR
Tread
Front
1000
mm
Rear
980
mm
Wheelbase
1700
mm
Min.ground clearance(mast)
110
mm
Drive units&control
Engine
Model
XINCHAI
C490BPG
JAPAN ISUZU C240PKJ
Rated output
40/2650
34.5/2500
Kw/rpm
Rated torque
165/1800
139/1800
N·m/rpm
No.of cylinder
4
4
Bore×stroke
90×105
86×102
mm
Displacement
2.7
2.369
L
Servicio 3.Service-SHANTUI cada vez en todas partes.

4. Piezas de repuesto: se pueden proporcionar todas las piezas de nuestros productos que necesita.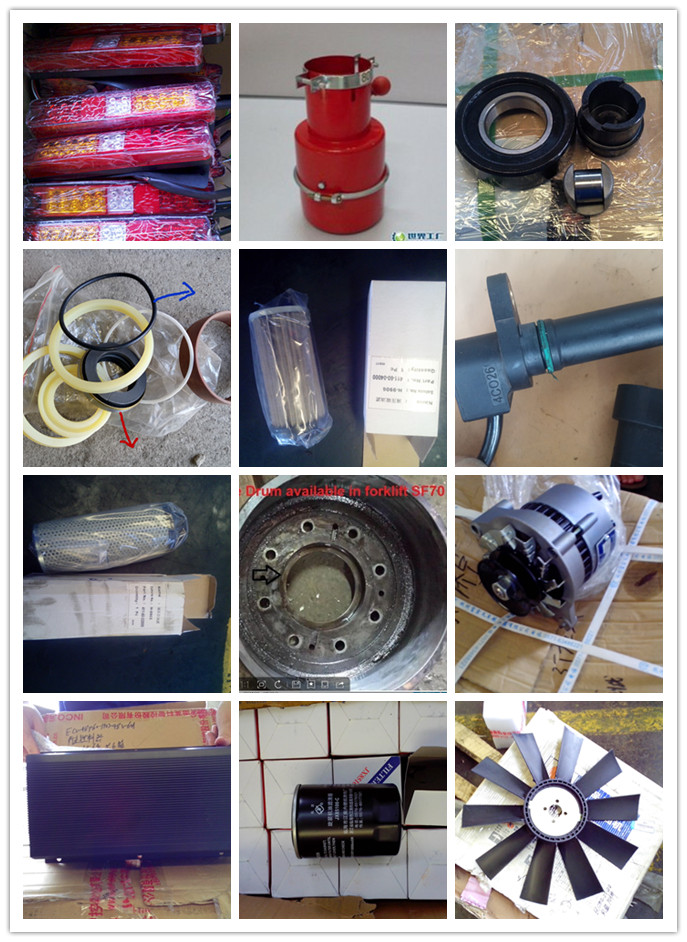 5. Certificado: CE ISO9001, SGS COC, CO GHOST ...

6. Mercado: las mercancías se han vendido a más de 140 países y regiones.

7. Paquete - se puede enviar en contenedor o transporte en camión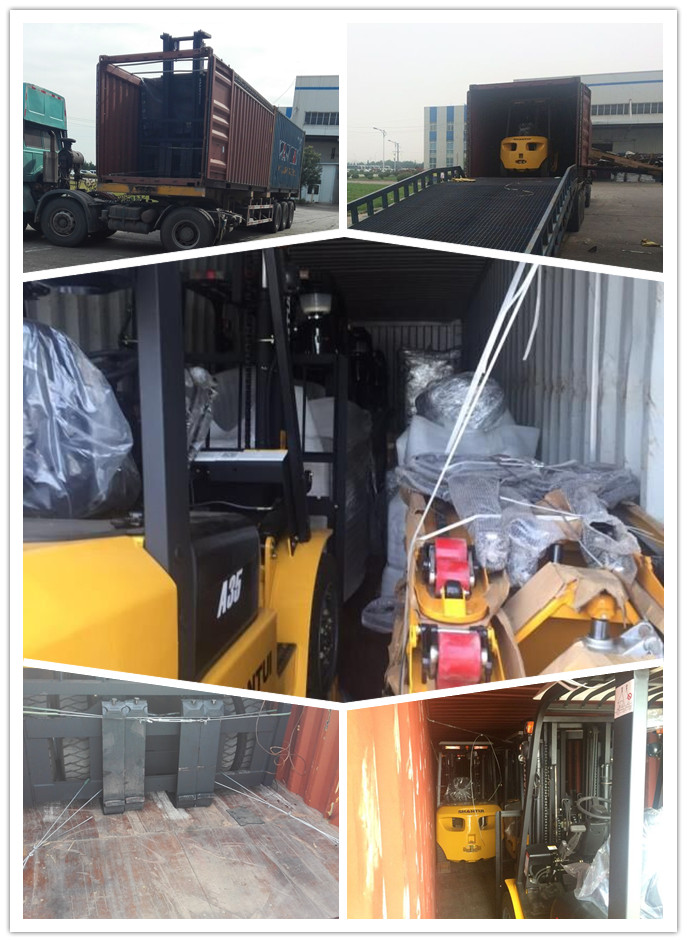 8 Contacto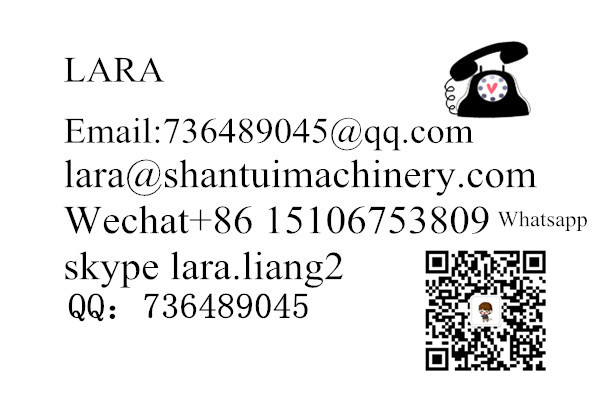 Grupos de Producto : Carretilla elevadora diesel > Carretilla elevadora diesel de 3 toneladas