La carretilla elevadora diesel ISUZU 4JG2 de 4 toneladas está diseñada y producida en SHANTUI GROUP bajo la tecnología y estándar KOMATSU y muy pensada por su menor ruido, menos contaminación y mayor estabilidad por parte de clientes internacionales, y puede utilizarse en todo tipo de condiciones de trabajo duras y difíciles. .
Acerca de SHANTUI
Perfiles de la empresa
Shandong Volin Heavy Machinery Co., ltd. es una subsidiaria del Grupo Shantui. Es fabricante profesional y proveedor de carretillas elevadoras Shantui. Nuestros productos principales incluyen carretilla elevadora diesel, carretilla elevadora eléctrica y carretilla elevadora de LPG a gasolina, maquinaria de construcción como bulldozer, cargadora de ruedas, excavadora, motoniveladora y compactador de carreteras y partes de maquinaria de construcción.
SHANTUI es una empresa estatal y se estableció en 1980, y hemos cooperado con Japón Komatsu desde 1980, y también usamos la tecnología Komatsu, ahora somos una empresa conjunta. Nuestros productos van desde la carretilla elevadora diesel de 1.5 a 25 toneladas y la carretilla elevadora eléctrica, LPG y gasolina de 1.5 a 3.5 toneladas. Todo el producto fue hecho bajo los estándares de Komatsu.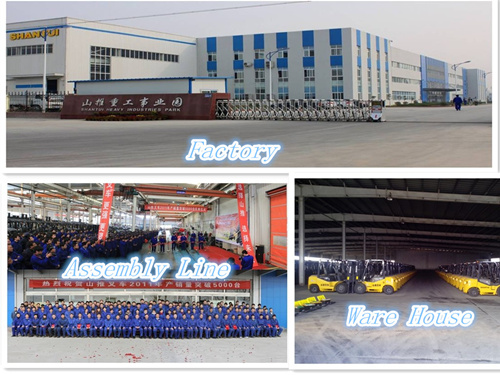 Prueba de la carretilla elevadora Shantui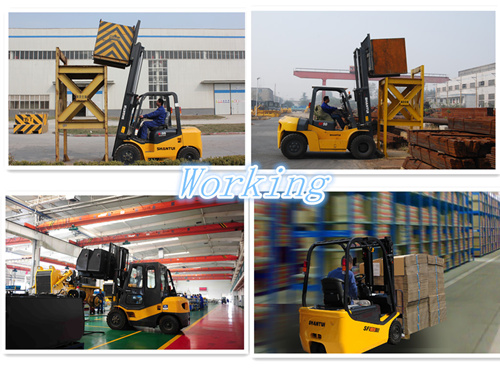 Entrega de paquetes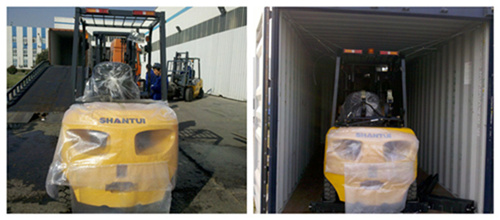 Certificado
CE ISO9001, SGS COC, CO GHOST ...

Exhibición Show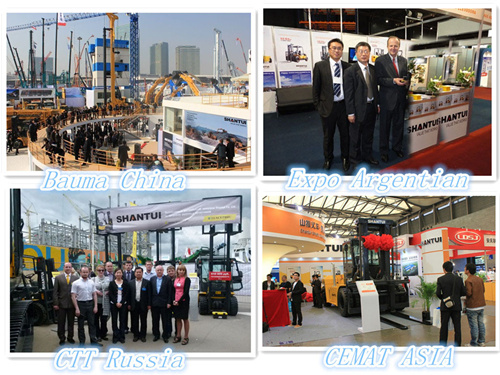 Especificación
SF40AC
General
Model
SF40AC
Unit
Load capacity
4000
kg
Load center
500
mm
Power type
Disesl
size
lift height
3000
mm
free lift height
160
mm
fork size
1220×122×50
mm
mast tile angle
6/12
deg
front overhang
546
mm
size
overall length
4201
mm
voerall width
1400
mm
overall height mast lowered
2190
mm
overall height mast raised
4238
mm
overhead guard height
2163
mm
min.turning radius
2650
mm
Performance
Travel speed full load/no load
Hydraulic
19/20
km/h
lift speed with load
420
mm/sec
max.gradeability
20
%
self weight
5350
kg
wheel and tires
tire
front
250-15-16PR
rear
7.00-12-12PRC-352
tread
front
1130
mm
rear
1100
mm
wheelbase
1850
mm
Ground clearance
Mast
140
mm
Frame
153.5
mm
Drive units and control
Engine
Model
ISUZU 4JG2
Rated output
44.8/2450
km/rpm
Rated torque
187/1700
N.m/rpm
No. of cylinder
4
Bore×stroke
95.4x107
mm
Displacement
3.059
L
Servicio postventa
Durante un período de garantía de un año o 2000 horas de trabajo, proporcionamos todo tipo de información de piezas y partes libremente por TNT / DHL sin cobrar franqueo. Todas las piezas instaladas en la carretilla elevadora están disponibles en nuestra fábrica.
También proporcionamos video de mantenimiento y enviamos nuestro material profesional para el servicio en el extranjero.
Grupos de Producto : Carretilla elevadora diesel > Carretilla elevadora diesel de 4 toneladas